Antique doll stud accessories
In the 19th & early 20th century, Show dolls' houses above all the domestic living space of the bourgeoisie. Only rarely are they faithful depictions of individual living conditions, but in general small reproductions of time-typical housing arrangements, objects of everyday life and technical achievements, which also reflected the values and ideals of the bourgeoisie.
At a time when there were no plastics, the inventory of the dolls' houses was largely material, We find mouth-blown jars and chandeliers, wax candles, real wood in furniture, e.g. Oak & walnut, porcelain, tin, brass & clay. Top & satin curtains, velvet covers & silk covers, linen linens, bed rugs made of fur and so on.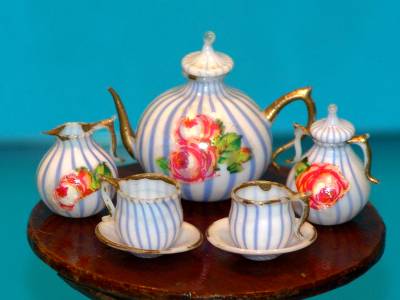 Mouth-blown coffee service with roses decor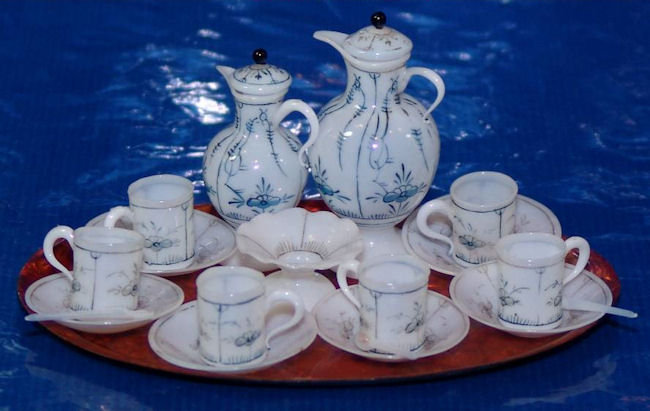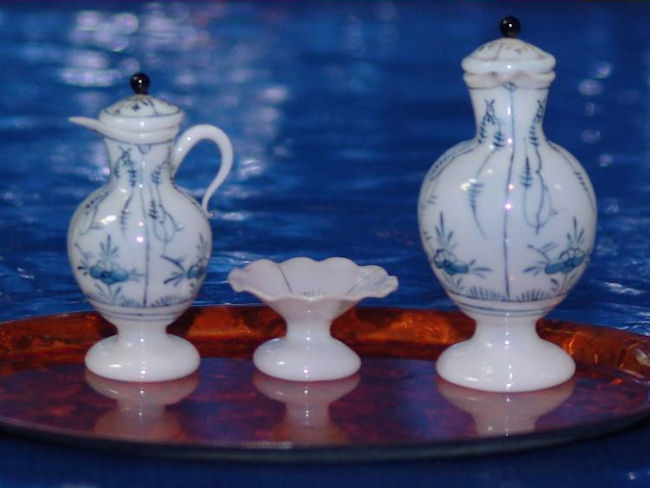 Mouth-blown coffee "straw flower decor"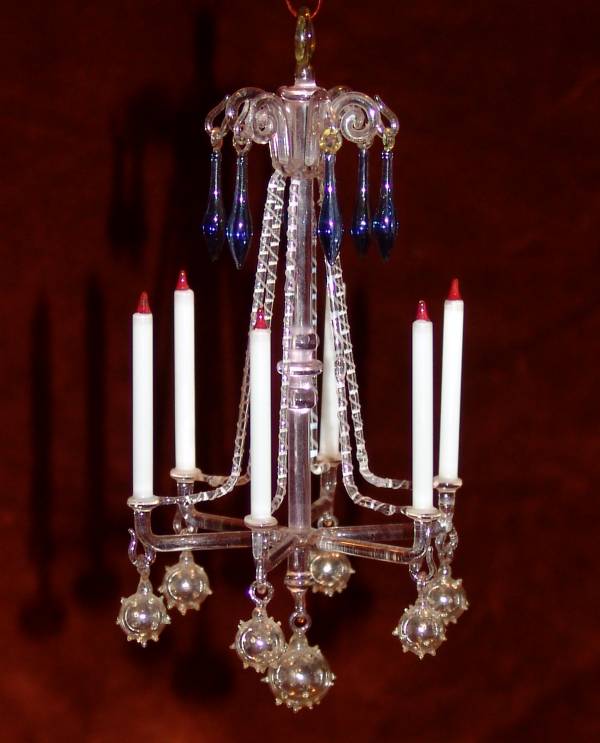 Glass chandelier for the dolls' workshop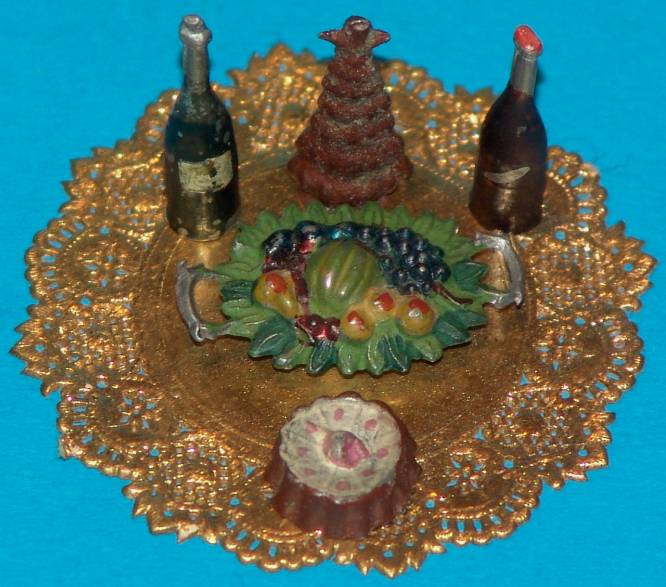 Food made of pewter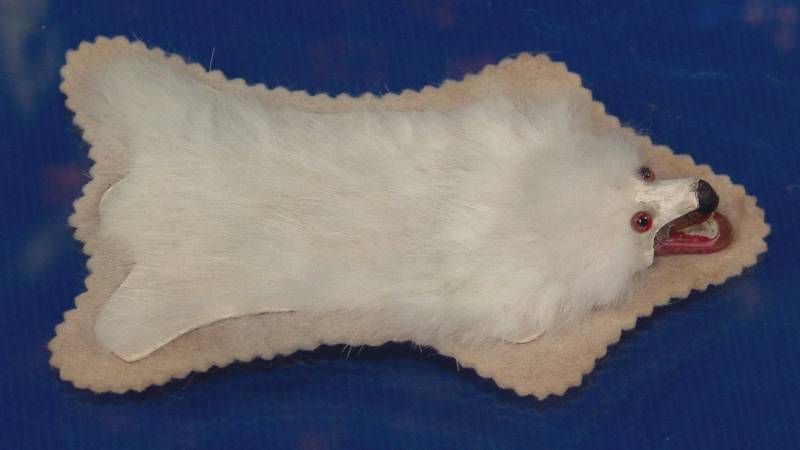 Polar bear skin with glass eye around 1900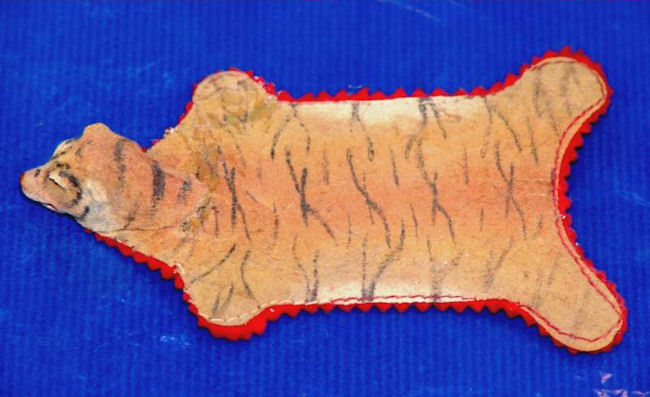 Tiger fur with mass head & glass eyes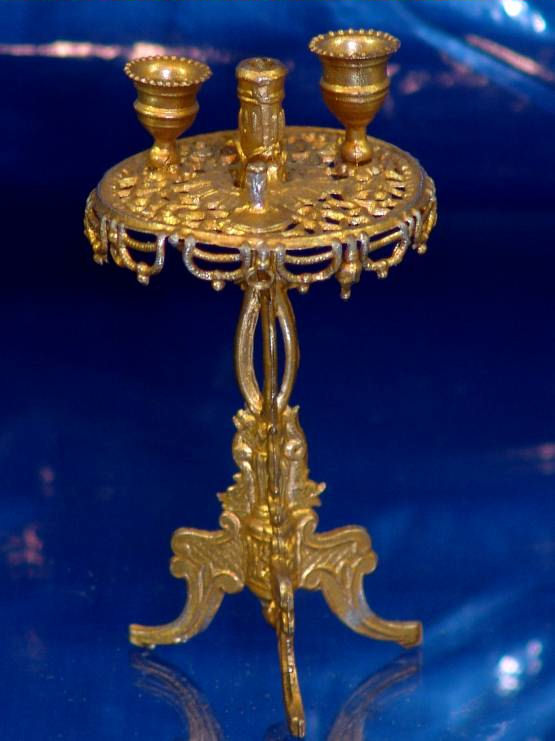 Small pewter tables around 1900
There were, of course, simpler & cheaper versions as well, eg wooden tableware and candlesticks (finely turned). Also food, perishable in material, made of wood or mass. Around 1850 about for the first time, furniture and other accessories, such as shabracks, picture frames, newspaper stands e.c. From sheet metal in doll's houses. This material allowed the processing of fine details.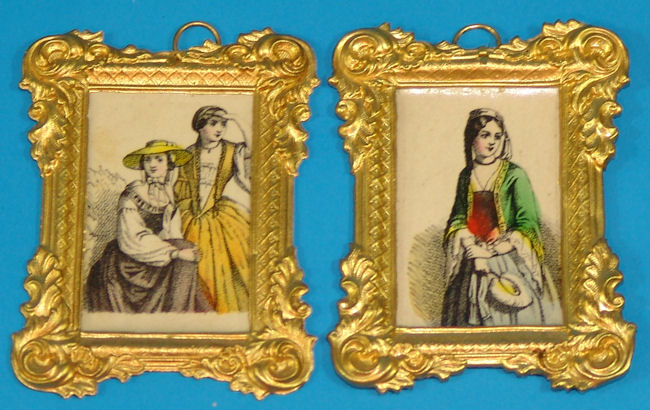 Gold plate murals around 1860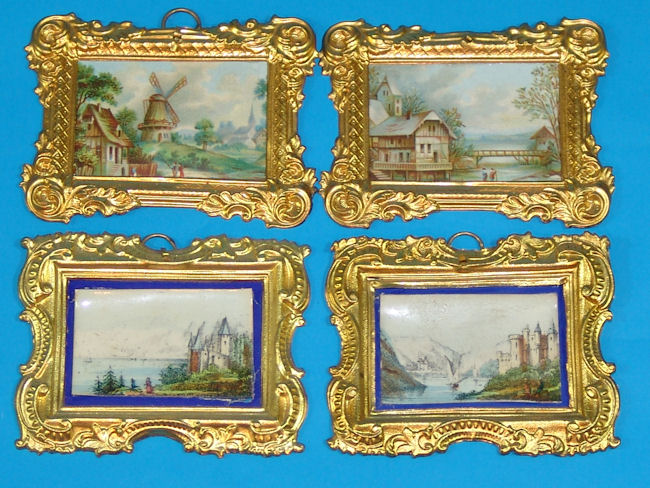 Landscape pictures around 1900 in the gold plate frame of Erhard & Söhne
Tin newspaper holder with miniature newspaper "Die Gartenlaube"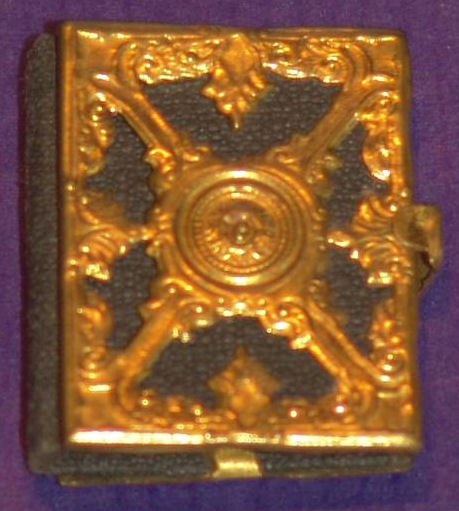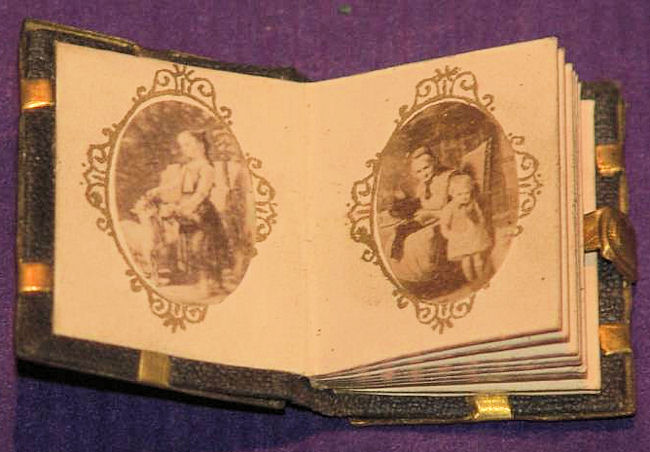 Photo album with gold plate cover around 1880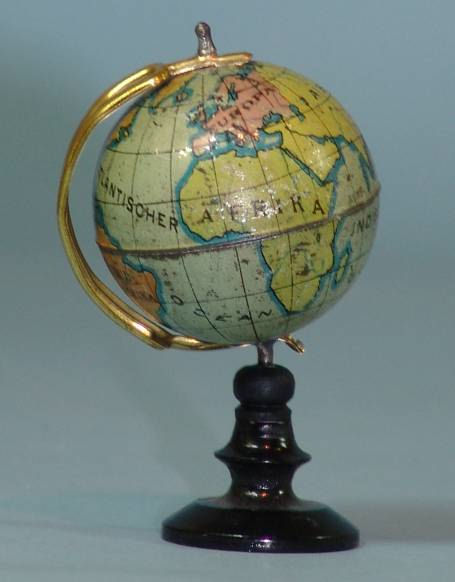 Miniature globe with turned wood foot around 1900
Coffeemaker, with fireplace and oven, as well as tables with telephone around 1910
Other small parts such as cutlery, scissors, inkwell, binoculars e.c. Made of tin or gold-plate. All these accessories were available.
Major companies were Marklin, Bing, Erhard & Söhne, and others.
Tin Accessories for the Dollhouse around 1900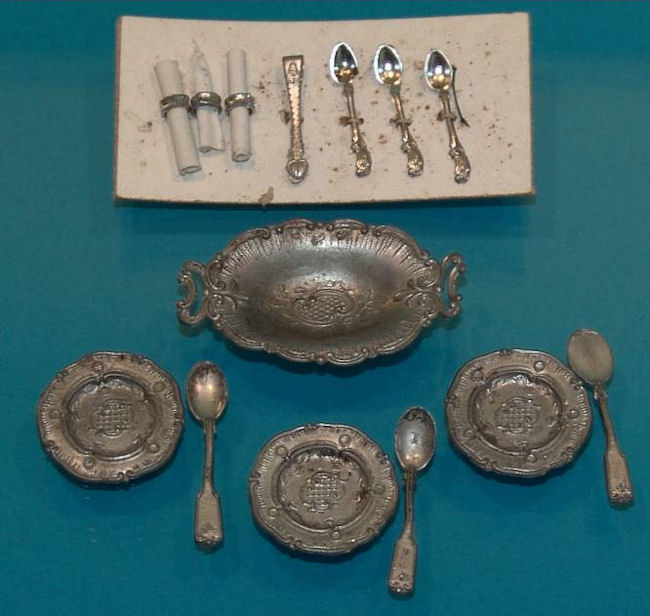 Tin Service parts for the dining table around 1890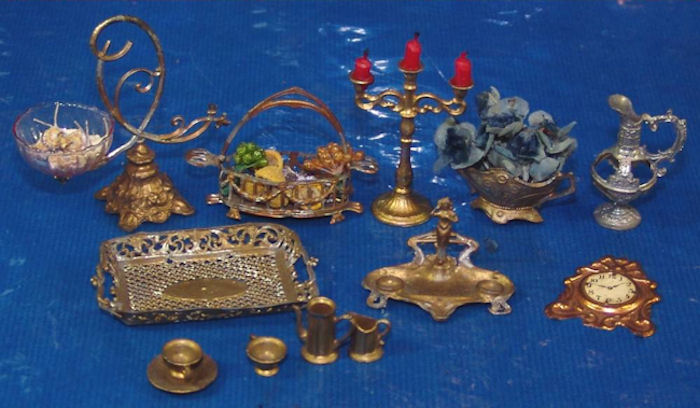 Decoration parts made of tin
The attention to detail in the setting up of the doll-houses was not only self-purpose, but it served the self-representation of the adults and had an educational character. In the playful part of the world of the parents, roles should be exercised and values ​​conveyed.
The richly and prestigiously furnished doll's room offered to the playing girls everything, which belonged to a regular household. And what could make their taste. At the same time, religion and literary education are conveyed as self-evident components of cultivated life-style.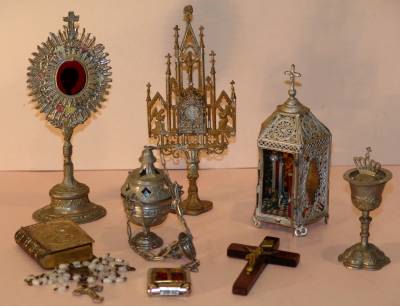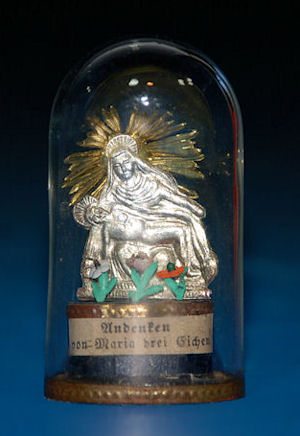 Souvenir of "Maria Three Oaks"
Religious murals with gold plate around 1900
Small wooden cross with Jesus for the dolls' workshop around 1900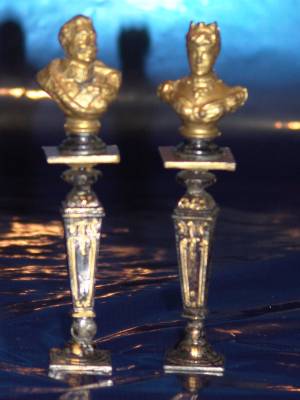 Bust of Emperor & Empress on tin pillars
We also find the reference to female tasks in the form of knitting, small sewing machines. A spinning wheel in the bourgeois apartment, however, had only a decorative function.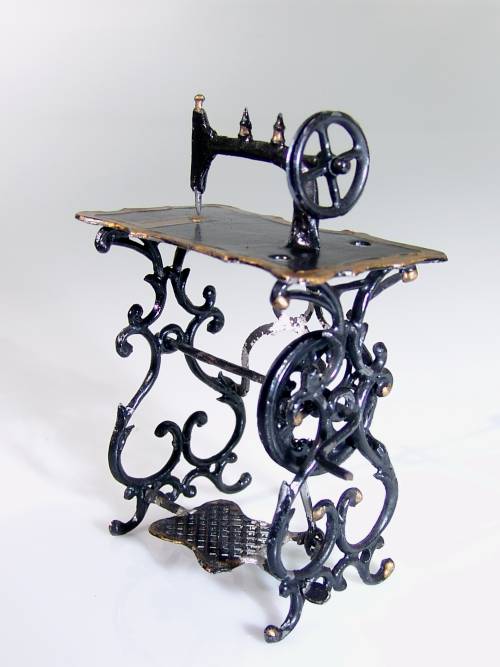 Small pewter sewing machine around 1900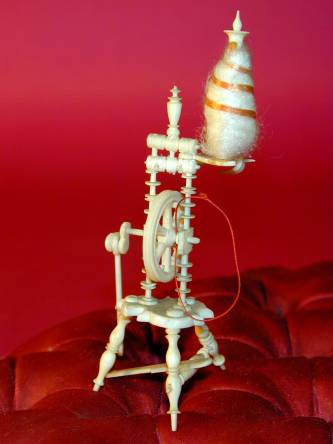 Miniature spinning wheel made of ivory